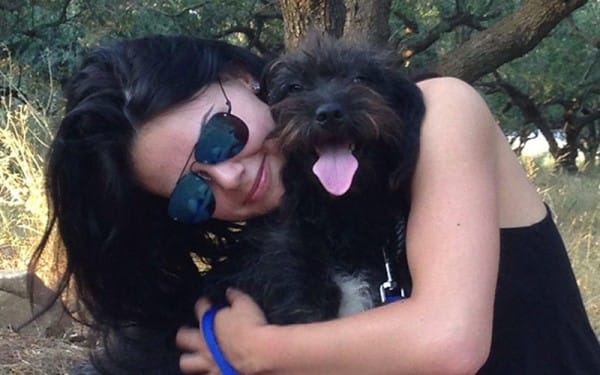 Georgia, a girl from the UK recently vacationed in Crete, Greece. She was at the beach alone one evening when two unidentified men came up to her and talked to her. The men asked her to join them for a drink but the 25-year old UK student declined. That was when things got ugly.
One of the boys grabbed Georgia violently but it didn't take long before a black straggly-looking dog approached them and barked angrily at the men. The noise and maybe, the thought of being bitten by a stray dog, made the two boys retreat and leave the area.
Georgia and the dog immediately formed a special close bond. She knew that the dog saved her from grave danger and she was broken up when she had to leave the animal behind in Greece. She named the stray black dog Pepper and swore to return to Greece to help her savior.
A couple of weeks later, Georgia was back in Greece to search for Pepper and take her back with her to the UK. The effort took five weeks, thousands of dollars, and three round trip flights between the UK and Greece.
Once Georgia found Pepper, she petitioned to adopt the dog. Pepper was given a pet passport, vaccinated and was micro-chipped; and then was placed in a 21-day quarantine before she could be taken to the UK. Before leaving Greece, the kennel owner informed Georgia that Pepper was pregnant.
Georgia and her animal savior arrived in the UK, just in time for Pepper to deliver 6 puppies. Pepper and her pups are now safe and healthy, away from a tough life in the streets of Crete. It is a great way to help an animal that saved you. Pepper is now settled in nicely and comfortably in the UK.