Imagine relaxing after a hard day. Pop the cork on a fine bottle of wine, for you and your pet! Well now that's true!
Apollo Peak, a company in Denver has come out with dog wine after a successful launch with its cat wine products, Pinot Meow and MosCATo. The new line of animal-safe wine will include 2 dog-friendly brands, namely, ZinfanTAIL and CharDOGnay.
Apollo Peak produces pet-safe wine products which do not actually contain any grapes or alcohol that are toxic for cats and dogs. The wine for cats are made from organic ingredients such as catnip, water, beet juice for color, and sea salt. The new dog wine line contains similar ingredients plus brewed peppermint and chamomile which are calming for canines.
The American Society for the Prevention of Cruelty to Animals has warned that chamomile may be harmful to dogs if given in large amounts. Brandon Zavala, the founder of Apollo Peak said that moderate amounts given occasionally should be safe for canines. He encourages pet owners to consult with their veterinarian before giving anything to their pets.
In early 2015, Apollo Peak sold 4,000 bottles of MosCATo and Pinot Meow, and the company is hoping to replicate the success with their wine for dogs. ZinfanTAIl and CharDOGnay can now be pre-ordered in 8 and 12-ounce bottles from the Apollo Peak website.
ZinfanTAIL Contains Beet Juice Which Produces The Red Color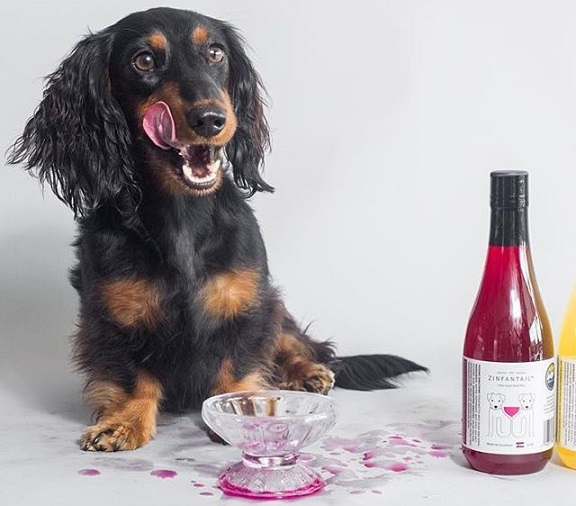 While the feline version of the pet wine contains catnip which stimulate cats, the dog variety especially the ZinfanTAIL, produces a calming effect of canines that sets them on a mellow mood. At only $11.95 for an 8-ounce bottle, having a glass with your dog will be cheaper than a night out bar hopping. It's a great way to spend a bonding moment with man's (or woman's) best friend?
Pinot Meow Set the Tone Of Success For Apollo Peak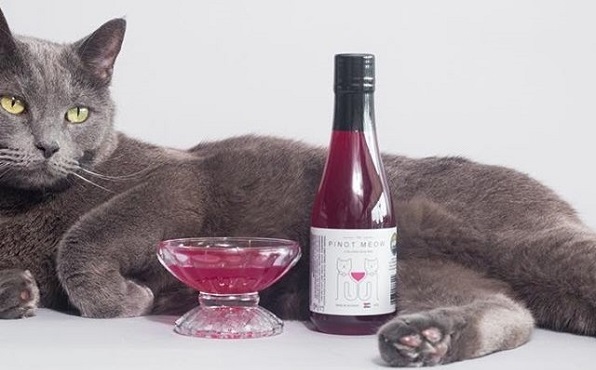 Click the arrow below to see more pet wines and photos on the next page….