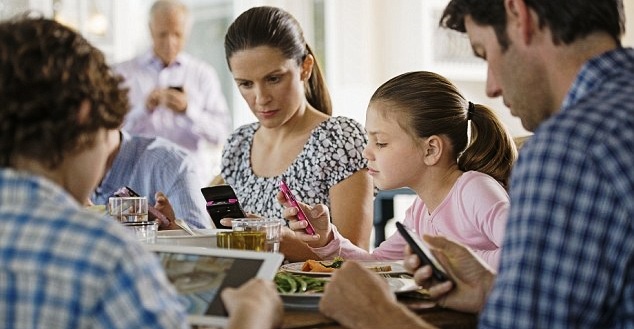 These days, it isn't uncommon to see a table, whether at home or at a restaurant, full of dinner patrons staring down at their phones or tablets. How do you feel when technology has taken over your dinner table and the lives of your kids?
Some studies say that over 30% of kids aged 5 to 15 take some form of technology to the dinner table every day. Even parents are now guilty of this as well. Texting or messaging has become the norm for communicating with family members. It isn't uncommon for mothers or fathers to text their children to come out for dinner.
Some mothers feel that technology has stolen time and conversation with their children. In some cases, parents are forced to remove smartphones, laptops and tablets from the dinner table just to have a conversation as a family. This in turn leads to children rushing up their dinner to be able to get their electronic devices back.
Often times, teenagers and adults as well surf on social media sites such as Facebook and Twitter, some people communicate with friends on messaging apps like Whatsapp and the like. People end up killing conversations with those near them in favor of communicating with friends far away from them.
Many parents become frustrated with family members focusing on their electronic devices instead of the food and people in front of them. This is even more frustrating for mothers who spend hours preparing a meal for their family. Although technology is a major part of our lives in this day and age, it is sad to note that most children and adults take it with them to the dinner table as well.
Have we all become lost in the world of technology? Watch the viral video below, Are You Lost In The World Like Me, by Moby and the Void Pacific Choir which was created to depict how technology has changed our world today.