A grandma bridesmaid on your wedding day? When you get married, you think you would ask your best friend or sister to be your bridesmaid. In the case of Christine Quin, this bride-to-be asked her grandma to be a bridesmaid for her May 2 wedding in Philadelphia. Initially, Christine was not sure how her unusual plan would turn out but Nana Betty turned her wedding into a great party instead of a solemn ceremony.
Nana Betty had everyone at the wedding cracking up at her antics. Her words of wisdom veiled as funny jokes sent the wedding guests into uncontrollable fits of laughter. Christine shares a wonderful and close relationship with her grandmother, who at 89 years old, danced the night away at the wedding party instead of going home to rest like most elderly people would have.
It seemed that Nana Betty's zest for life was contagious too. At one amazing moment during the celebration, Nana Betty managed to get the grandmother of Christine's new husband to dance with her too. Everyone at the wedding party loved her wit and sense of humor.
Not only did the grandma bridesmaid make everyone happy, she was also quite pleased herself. "You're only as old as you feel and I feel young today," she told Christine. The wedding photos speak for themselves and show the world that getting a grandma bridesmaid might just be a fantastic idea after all.
Grandma Betty With Christine And Other Bridesmaids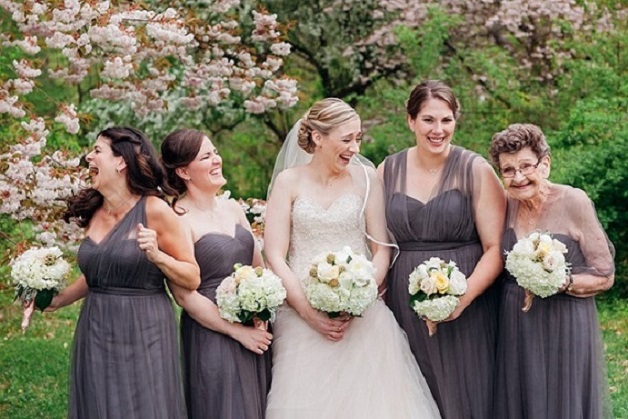 Go to the next page to see the rest of the wedding photos…