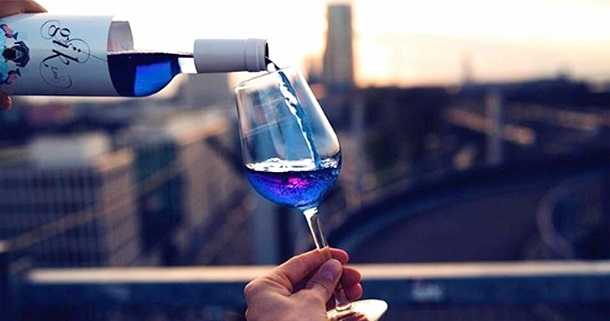 A glass of blue wine anyone? Gik, a startup wine company in Spain, is producing blue colored wine to give us something new to drink. Due to be release in Europe and the United States, this new invention might become a trendy summer wine that will not just raise eyebrows but also generate a lot of questions among connoisseurs and casual wine drinkers.
The six young owners of Gik claim that they are not vintners but are instead "creators." The Spanish founders in their 20s purposely chose to challenge one of the most narrow-minded industries in the world – the wine making business. They succeeded in creating blue wine with the collaboration of a food research company, Azti Tecnecalia and the University of the Basque Country.
What Do You Pair With Blue Wine?
We know that white wine is suitable for white meat and seafood, red wine is great with red meat and steaks while rose wine is usually served with a wide variety of seafood, appetizers, and grilled food. The big question is – What on earth can blue wine be paired with and at what temperature should it be served? Can you wash off the indigo stain from your clothes or will it ruin your garments forever?
These are just a few questions that still need to be answered by the creators of this sapphire colored wine. For now, here are some things we know about blue wine.
Does Blue Wine Come From Grapes?
The creators say "yes." Surprisingly, grapes grown for red and white wine are used to create their innovative product. The grapes are sourced from various vineyards in Spain and France. With wineries in Courthezon, La Roja and Zaragoza being their main suppliers. Gik's blue concoction does not have a source of origin like most wine products since the grapes come from at least two countries. Instead, Gik guarantees wine that is unique in flavor and good quality.
See why red plus white turned blue on the next page…