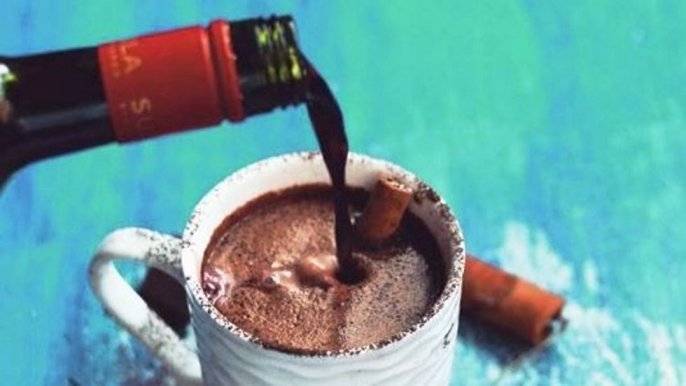 Red wine hot chocolate has been around for a while but has just become more popular in recent months. Once you have tried this "chocolate drink for adults", you might actually enjoy it more than your usual hot chocolate or favorite alcoholic beverage.
It is actually pretty easy to prepare and you can play around with the recipe by adding some whipped cream, cinnamon or marshmallows if you wish. It is a great culinary invention that combines two popular beverages – hot chocolate and red wine.
There are many recipes for this drink online and you can try some to find one you like best. Here is one recipe from Big Banyan Wines that is very easy to prepare. You can also watch the video below and see how simple it is to make. You can certainly use your own favorite red wine, use dark chocolate instead, or tweak the recipe to your liking.
Ingredients:
1/4 cup sweetened hot chocolate
2-4 tsp of sugar
1 cup of milk
100 ml of Big Banyan Shiraz
Procedure:
1. To get a silky smooth texture to your hot chocolate, first make a paste of your hot chocolate mix. Take the hot chocolate powder, sugar and a few tablespoons of milk, and whisk it together to make a thick paste.
2. Then add the remaining milk and whisk till it is well blended.
3. Pour the wine into a saucepan and reduce it. Leave it on the stove till the alcohol evaporates, giving you a fragrant delicious reduction.
4. Add this reduced wine to your hot chocolate and mix well.
5. Allow it to simmer a while.
6. Give it a good mix. And serve it hot.