Visiting your groom's grandma after your wedding is really not a normal thing to do. This particular grandma, Peg McCormack could not attend her grandson's wedding in person because she had a bad fall. The 91 year old was stuck in a hospital bed on November 7 instead of attending the wedding on Madison, New Jersey. Her grandson and new bride decided to pay her a visit right after the ceremony.
Unfortunately, Peg found herself incapacitated on the morning of her grandson's wedding and everyone knew that the old lady was incredibly disappointed not to be able to come to the ceremony. The groom and bride, Brian and Lauren Kurtulik decided to plan a surprise by visiting the groom's grandma after the wedding ceremony with the official wedding photographer, Rachel Nolan, in tow.
"She was so excited to watch us get married," Lauran told reporters. "She was literally living for this wedding. So we brought the wedding to her." The strange thing is, grandma Peg was not aware of the surprise visit but was prepared when they arrived, dressed up in her wedding outfit with her formal shoes, corsage, and make-up.
Brian And Grandma Peg Were Obviously Close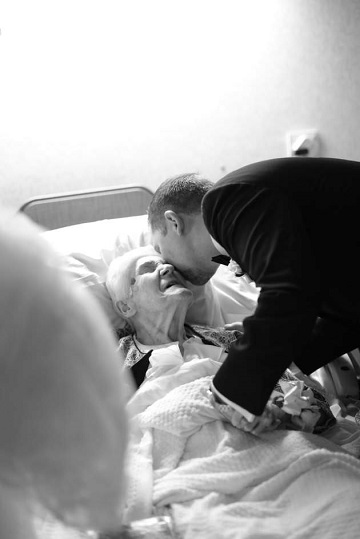 When the newly-wed couple arrived at the hospital, Peg seemed utterly surprised, according to the photographer, Rachel Nolan. The photographer said that the old lady could not believe that they came to the hospital visiting the groom's grandma after the wedding. Rachel Nolan, of Hello Gorgeous Photography, said that Peg and her grandson seemed to have such a special bond. "I don't think she let go of Brian's hand the entire time that we were in that room," said the photographer.
Peg Never Let Go Of Brian's Hand During The Entire Visit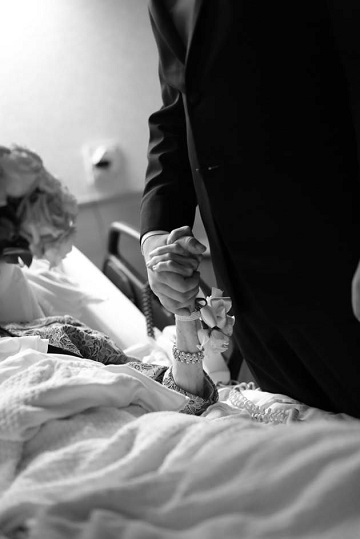 Visiting the groom's grandma after the wedding was a small part of his wedding day and it was a good decision to go ahead with it because Peg passed away just a month after the wedding. It was like she just lived for the wedding of her grandson before moving on to a better place.
Lauren posted a message on her Instagram that said, "Thank god we did this and got to capture this special moment. This is what life is all about. We get so lost in the perfect moments and perfect situations, sometimes we forget what's happening right now."
Newly-Weds Visiting The Groom's Grandma After The Wedding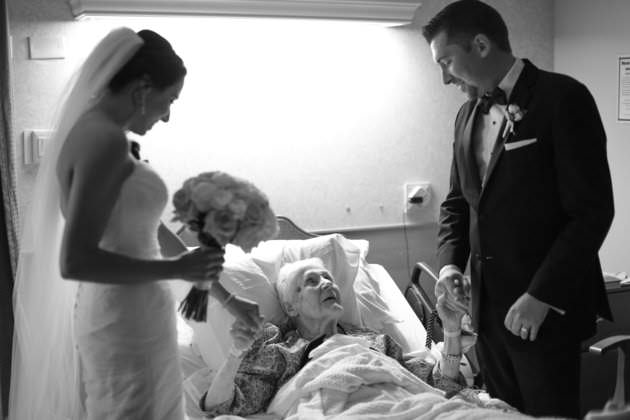 Rachel, the photographer wishes that the photographs she took of the couple visiting the groom's grandma after the wedding would remind people of the bigger picture, that the ceremony, the gorgeous wedding gown and the fancy reception was just a tiny part of the event.
"They are about the little moments, the ones that you may never get back. Wedding days are about you and your partner together and the new family you are creating," Nolan said.