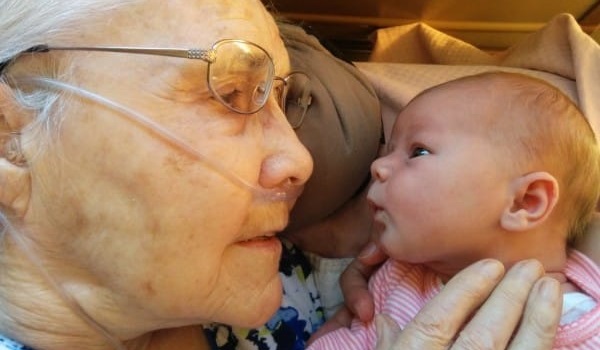 Rarely can one find a fourth generational moment that captures a two-day old baby and her great grandmother in one photo. This photo speaks more than a thousand words since it is such a rare chance to get two people four generations apart in one happy moment.
Scott Martin, the father of two-day old Penelope, is a first time dad. He resides in Washington State with Jen, his wife and their little bundle of joy, Penelope. Scott posted a picture of the fourth generational moment on Reddit of great grandmother, Millie Martin, and baby Penelope that has since gone viral on the internet.
Although the two-day old baby girl was awesomely cute, it was not the main reason why the photo went viral online. It was the adorable moment when the image was captured of Penelope staring into 92-year old Millie's eyes. The emotional moment captured in the image has made countless hearts melt around the world.
"They just stared at each other for a while, it was like they knew each other," Scott said. It was emotional for Scott to witness that fourth generational moment because he was particularly close to his grandmother. It was also emotional for Millie because that day would have been her 71st wedding anniversary with Scott's grandfather who passed away just a few months before.
Amazingly, this fourth generational moment captured in a photograph was not the first time that baby Penelope's image has become viral on the internet. This baby previously gained fame when her ultrasound at 14 weeks in her mother's womb showed her clapping her hands. Watch the famous ultrasound video below.