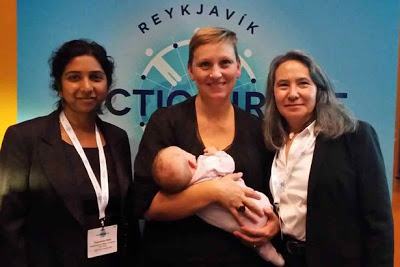 Breastfeeding in public or in private has always been a debatable topic around the world. It also seems to be more of an issue in first world countries than in less developed third world countries. Earlier this month, an Icelandic politician, Unnur Bra Konradsdottir, made waves after a video of her breastfeeding her six-week old baby while delivering a speech in Parliament surfaced on the internet.
The video captured her performing what she says is "the most natural thing in the world". The event was aired live on television. Iceland is one of the world's vanguards of gender equality. In 1980, it gave us the world's first duly elected female head of state, Vigdis Finnbogadottir.
MP Konradsdottir was elected to Iceland's parliament in 2009. She is a mother and a member of the parliament's social protection committee and is the person in charge of the committee on school affairs. Watch the video below and see how this natural act of motherhood is indeed a normal thing to do in Iceland. It seemed like no one really cared!