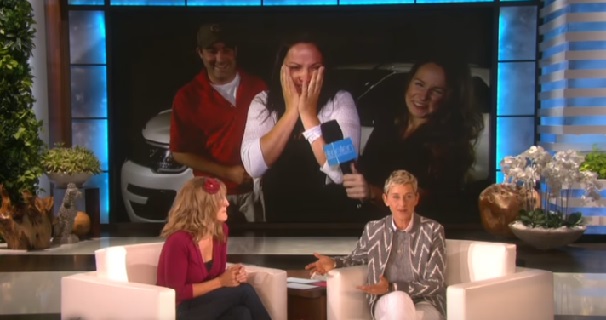 Ellen DeGeneres, like most of us, had seen that viral video of a pregnant woman, Jillian, surprising her sister, Kelly-Renee, with an ultrasound image of her twins. The ecstatic reaction of Kelly-Renee to the news of becoming an aunt to twins was caught in the video and caused it to go viral. She was even recorded on film asking for one of the twins after they were born.
After the twins were born, Kelly-Renee decided to surprise her sister with her own news with the help of no other than, Ellen DeGeneres. Not only did she have one surprise, but three! No! Kelly-Renee was not going to have triplets! But the surprise was going to be HUGE!
Jillian was resting at home after leaving the hospital when Kelly-Renee was at Ellen DeGeneres' show. The video below shows, the famous clip of discovering about the twins and moves on to Ellen DeGeneres giving Jillian a call at home. Jillian initially thought that the call was from a hospital employee checking on her and the newborn twins.
After recovering from the initial shock that it was actually Ellen DeGeneres on the line, she was then given her first surprise – a brand new Ford SUV for her and her family. The new SUV was to replace Jillian's rundown and rusty van.
After the first surprise from Ellen, she then received another one from her sister Kelly-Renee. Watch the video below till you get to the third surprise!