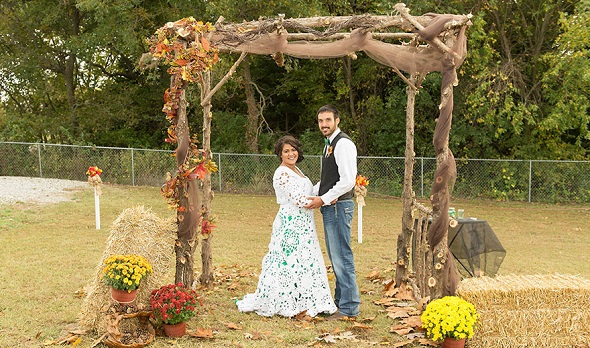 If you want a wedding dress but do not have the budget to buy a $1500 gown, consider making your own just like what Abbey Ramirez-Bodley did. This resourceful and creative 22-year old bride spent eight months crocheting her own gown for her marriage ceremony.
Crocheting is one of Abbey's hobbies taught to her by her aunt when she was only 3 years old. She could not find a dress within her budget because all the gowns she liked cost over $1000. By crocheting her own gorgeous wedding dress, she was able to save a lot of money.
The cost of her own DIY gown summed up to only $170. About $100 from the total amount were spent on a green dress that went underneath the crocheted outer layer. After months of hard work, Abbey walked down the aisle in her handmade bridal gown.
Abbey told Mashable that she felt very special creating something with her own hands for one of the most important days of her life – her wedding day. "Start early and don't get frustrated. The outcome is worth all the work," Abbey advised brides-to-be.
Not everyone may want a crocheted gown but some women may be able to sew their own wedding dress from a different fabric. Another option is to get a friend to help you sew it if you don't know how to do it yourself. Keep the design simple but elegant to make it a more viable DIY project.
Another way to save on costs is to order a ready-made wedding dress online. You can also buy a simple, flowing, and elegant long gown and add accessories to the dress to make it glitzy enough for a special occasion.
Green Gown Under Crocheted Wedding Dress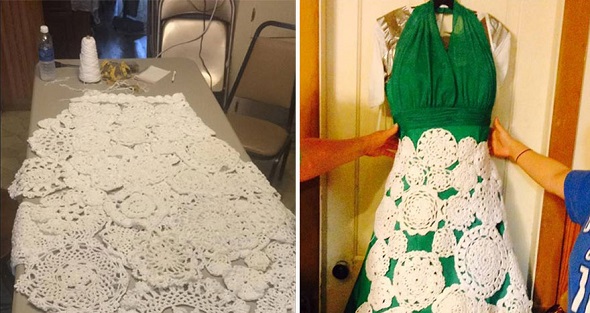 This DIY Wedding Dress Cost only $70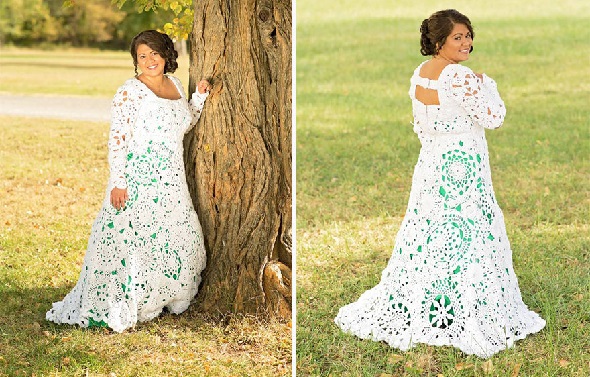 May The Bride And Groom Live Happily Ever After