Hasselback Chicken is one of the easiest recipes that you can cook. Most people are familiar with making Hasselback apples and potatoes, but a similar procedure can also be applied to chicken breast. It doesn't only look good when it's done, it also tastes awesome.
Hasselback Chicken also looks like a gourmet dish when it is done. It's a great way to impress your dinner guests who will think you put hours into preparing this dish. It actually takes only a few minutes to prepare and is quite cheap to make.
Hasselback Chicken – An Elegant Dish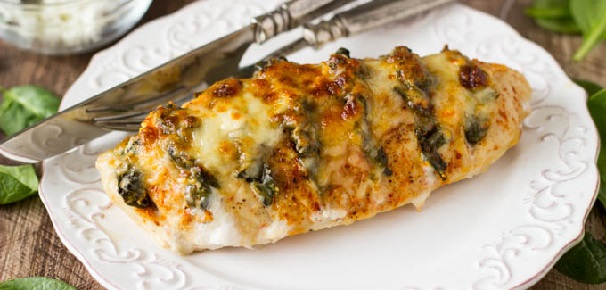 Ingredients For Hasselback Chicken:
2 1lb chicken breasts
1 tsp. olive oil
¼ cup ricotta cheese
1 ½ cups fresh baby spinach
1/8 cup white cheddar cheese, grated
Salt, pepper and paprika
Procedure To Cook Hasselback Chicken:
Clean the chicken breasts and cut crosswise slits on the concave part of the breasts. Do not cut all the way through the chicken. Set it aside for later.
Heat your oven to 400°F.
While you pre-heat your oven, cook the spinach in olive oil in a sauté pan till the spinach is slightly wilted.
Add ricotta cheese to the pan and let it melt into the spinach.
Remove the spinach from the heat and let it cool.
Evenly distribute the spinach mixture with melted ricotta cheese into the slits in the chicken breasts.
Season the top with salt and pepper.
Sprinkle some grated cheese on top.
Now it's time to sprinkle it with paprika.
Place your stuffed Hasselback Chicken breasts on a baking dish and bake it in the oven for about 25 minutes.
Once the cheese melts and the juices from the chicken are clear then your Hasselback Chicken is done.
This dish is lovely served with pasta, rice pilaf or red rice, or steamed broccoli. Now that wasn't too difficult was it?
Here's a video that shows the whole thing….